Ms. Sharmistha Sinha- Principal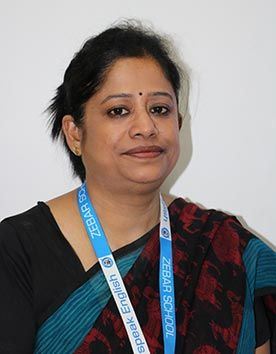 E-mail: principal@zebarschool.com
Academics:
Bachelor of Arts, English
Master of Arts, English
Bachelor of Education
Employee Recital:
English Teacher- Higher Secondary Section at Udgam School for Children, Ahmedabad.
Lecturer-English at DS College,Rajasthan University, Jaipur
Senior TGT –English at Tagore Public School, Jaipur.
Lecturer-English at Bansthali Vidyapeeth(Deemed to be University),Banasthali, Rajasthan.
Teacher at Sophia Secondary School, Rajasthan.
Professional Abridgement:
Attended capacity building workshop, conducted by TERI, on environmental concerns and eco clubs.
Bestowed with Certification of Appreciation on Stellar Show by the Students, in the Senior Secondary Board Examinations. Appreciation was endorsed by Former Human Resources Development Minister, GOI, Honorable Ms. Smriti Zubin Irani.
Felicitated, in the category of 'Core Values' , at the Annual Teachers' Conference, attended by Udgam Leadership.
Attended Workshop organized by the British Council, New Delhi, on Introduction to Communicative Approach in Teaching English, as a Foreign Language.
Appreciation by Science Olympiad Foundation, for Initiative, Commitment and Contribution as NCO(National Cyber Olympiad) Class In-charge, for their 16th SOF, NCO.
Penned number of articles thru NIE(Newspaper in Education), the students' edition of The Times of India behemoth.
Former member(prestigious Indian University) Board of Studies with the mandate to design Industry Relevant and in-vogue curriculum.
Member-Question setters' Forum  and Examiner for an Indian University.